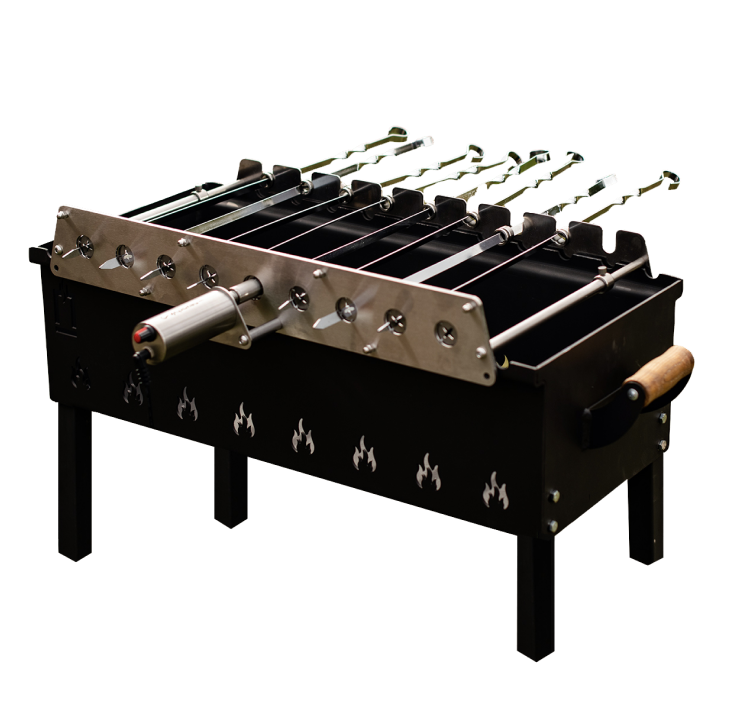 Kodėl Don't flip reikia ir TAU!
Geras daiktas, kuris sutaupo daug laiko ir yra labai praktiškas atvykus draugams. Ačiū
Puiki dovana vyrui ❤️ Maniškis taip džiaugiasi, jog net rekomenduoja jį draugams. Ačiū Nevartyk komandai už linksmesnius ir patogesnius vakarus su šeima ir draugais!
Naudingas prietaisas ir nuostabus kelionės pagalbininkas – išvykus pasibūti su šeima prie ežero, sutaupiau nemažai laiko bei nervų. Rekomenduoju!
Will it fit my barbecue grill/kamado grill?

Will it fit my barbecue grill/kamado grill?
Yes. The (size-adjustable) flipping systems are designed to fit any size of barbecue grill or grill/enclosed grill. Only the Kamado skewer flipping systems are unique in that they are only adapted to a specific model. Currently available Kamado models are "Media" and "Grande".

Can the rotation of the skewers be adjusted?
Yes, you can adjust the speed of rotation of the skewers to suit your needs - from very slow to very fast.

What is included in the "Don't flip" skewer flipping system?
The package includes the "Don't flip" device, a rechargeable external battery (powerbank), skewer locks and instructions. The Kamado skewer flipping system also includes a lid with a thermometer and a base for the system, which is placed on the Kamado.

Are skewers included in the flipping system?
The skewers are not included and can be purchased separately or you can use your own skewers.

Is the "Don't flip" flipping system covered by warranty?
Yes, there is a two-year warranty

How many days does it take to ship an order?
Each order is prepared and shipped within 1-3 days. You can choose pick-up in Kaunas or sending by Omniva post machines/courier


Are the skewer flipping systems produced in Lithuania?
Yes, all thread turning systems are handmade products, manufactured in Lithuania. We pay a lot of attention to every detail of the product - we make sure that all the parts used are of the highest quality, we process the metal with our own hands and make a system for turning the skewers, which will make you happy every day of baking.